WELCOME TO THE SCI-FI CAFE.
SHOW USED DILITHIUM CRYSTAL FRAGMENTS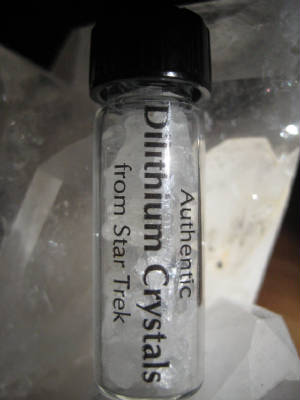 NOT MANY LEFT. QUICK SHIPPING

Scotty with Dilithium Crystals
WHILE SUPPLIES LAST, GET THESE AUTHENTIC STAR TREK DILITHIUM CRYSTALS, THAT WERE ACTUALLY USED ON THE ICONIC TELEVISION SERIES, STAR TREK .
THESE ( SHOW USED ) DILITHIUM CRYSTALS COME DIRECTLY FROM THE JAMES "SCOTTY" DOOHAN FAMILY. EACH COMES WITH 2 CERTIFICATES OF AUTHENTICITY. ONE FROM THE DOOHAN'S AND A COPY OF THE COA FROM THE IAW, CBS /PARAMOUNT SANCTIONED AUCTION.
Only $19.95 CLICK THE "BUY NOW" BUTTON AT THE BOTTOM OF THE PAGE. MOST CREDIT CARDS ACCEPTED. THESE ARE ALMOST SOLD OUT. DOMESTIC SALES (USA) ONLY. FOR INTERNATIONAL SALES GO TO OUR EBAY STORE (click pic below)
WE TAKE PAYPAL, VISA, MASTERCARD AND AMERICAN EXPRESS. QUESTIONS? , EMAIL US AT SCIFIBIZ@MSN.COM
Chris Doohan (above with Scotty) will sign each COA